Communal Singing In Silsden, West Yorkshire
Silsden Singers is a friendly choir, and with Janet, we have enjoyed reviving Community Singing for the 21st Century in Silsden.
Most of our songs come from Folk Traditions around the world, including the British Isles. We also sing songs by singer songwriters, and some light-hearted poplular songs from the last 50 or 60 years.
Silsden Singers Sing Songs That Celebrate The Seasons
We sing songs that celebrate the seasons, including some lovely ancient carols, both sacred and secular.
Our wide-ranging repertoire also includes lullabies, songs celebrating love, work and peace, shape-note songs and songs of historical interest.
Occasionally we sing very silly songs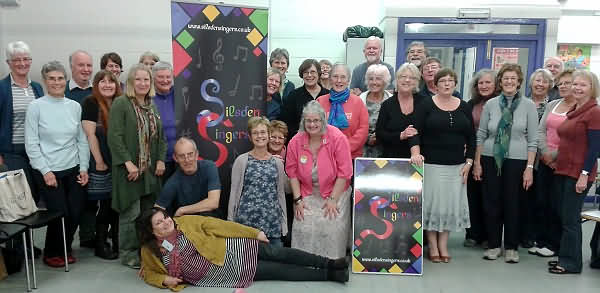 A cappella Singing in West Yorkshire with Silsden Singers
Silsden Singers is an unaccompanied (a capella) choir. To date, we have only sung one accompanied song – 'Is This The Way to Amarillo'. We were accompanied by Silsden Town Band – it was a marvellous experience!
Silsden Singers mostly sing in harmony, with some songs sung in three parts (High, Medium and Low), and others with Soprano, Alto, Tenor and Bass parts.
Sometimes we sing in rounds or even rounds and harmony at the same time.
You can sing in any part in Silsden Singers
Members of Silsden Singers can generally choose to sing any of the parts in a particular song; the exception being when a song does not really lend itself to such a treatment.
Not many choirs enjoy this kind of mixed-part singing (men and women singing together in a part – usually an octave apart). However, it is a distinctive feature of the Silsden Singers 'sound'. It's sort of nice and rich!
Currently, not many men sing soprano or alto very often, but women regularly sing in both Tenor and Bass parts.
We could do with more men in the choir, and if you wanted to sing the tunes of the songs (that is, usually the Top or Soprano part), or sing the Alto part, you can if you're in Silsden Singers!
Natural Voice Harmony Singing With Silsden Singers
Songs are taught "by ear", so members don't need to be able to read music.
Musical notation is provided for those who like to see it written down.