Silsden Singers – Community Choir, Silsden, West Yorkshire
Here Is Our Home
Silsden singers is a community choir. We meet on Tuesdays evenings in Term-time, at the Youth Centre in the Daisy Chain Children's Centre (next to the Fire Station) in Elliott Street, Silsden, in the westernmost part of West Yorkshire.
Happy Birthday
We celebrate our twentieth birthday on the 17th of July. All welcome to share the event!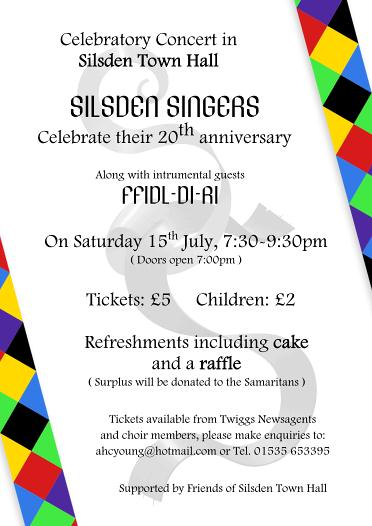 Silsden Singers is a mixed choir with over 40 members. We are open to all adults who want to have fun, singing in harmony with others.
Example Recordings
These examples are from a 2009 performance in Kirby Malham church.
Here is My Home
Hush Thee My Dove
Janet Russell is the musical director and leader of Silsden Singers
Silsden Singers was founded by Janet Russell fifteen years ago, and she leads the choir today.
Janet is an inspiring and experienced choir leader, who also performs regularly on the national Folk Music circuit, both as a soloist and with other singers. She is part of Jigjaw and of Sisters Unlimited.
Janet at Holmfirth Folk Festival
At at Spice 4 U on Sunday at 12 noon. Mentioned on the Holmfirth Folk Festival website
There will be several formal folk clubs with an MC, floorspots and guest appearances from Festival performers. To join in just turn up early to see the MC, more details will be in the programme.